Memorable Meals: Beaulieu-sur-Mer
Fine Dining on the French Riviera
Special meals enjoyed on holidays remain vividly in our memories long after. While in lockdown, we often speak of memorable meals from around the globe. On our last trip to France, we expected fine cuisine and in Beaulieu-sur-Mer we savoured two exceptional dinners that still resonate strongly with us.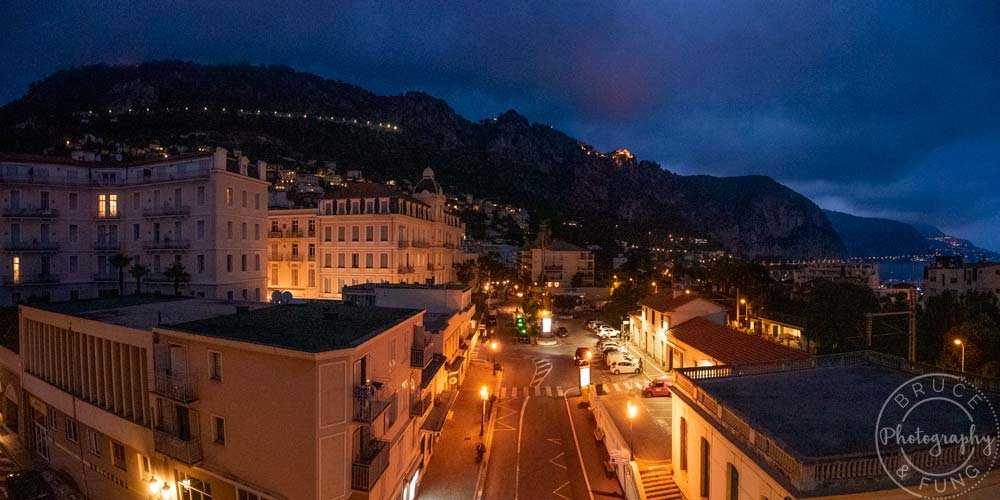 Above: Our view in Beaulieu-sur-Mer looking past the train platform on the right, eastward towards Eze and Monaco. Top: a pot of mussels to remember.
Beaulieu-sur-Mer
Beaulieu-sur-Mer is not a tucked-away rustic village on the French coast. It is a world famous destination surrounded by other world famous destinations on the expensive tourist magnet known as the Côte d'Azur. Situated between Nice and Monaco along a narrow strip of land hugging the Med beneath looming cliffs, it is a well-established tourist town. We picked it in order to have a few final days in the south of France along the coast. It isn't a big city like Nice, or as expensive as Monaco. Bordering the renowned communes of Eze, Saint-Jean-Cap-Ferrat and Villefranche-Sur-Mer, it is a charming and compact town.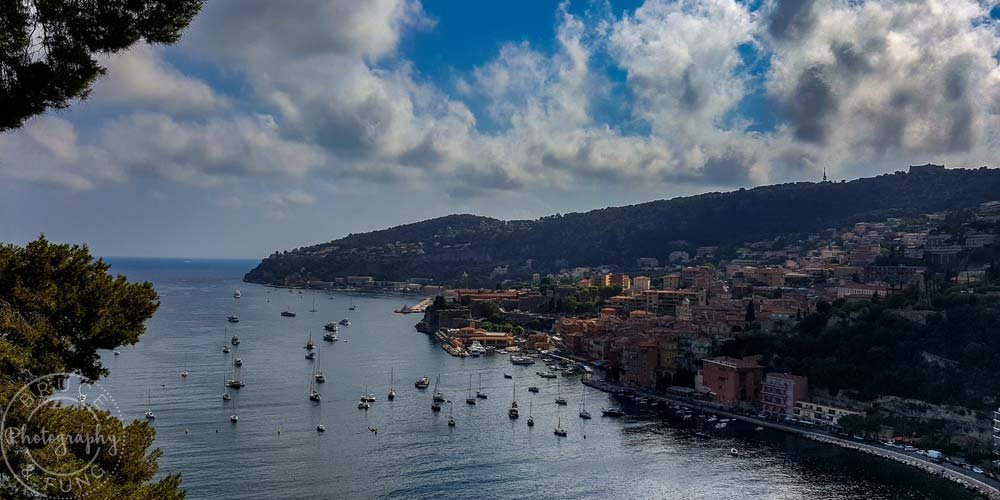 Above: Villefranche-Sur-Mer
Not Exactly Car-Friendly
Compact in the south of France translates to a lack of parking. Since parking was a challenge, being able to walk to most places around town was welcome. Bruce needed to move the car from time to time in order to park where parking was allowed during certain times of the day and night, so we needed to keep an eye on the clock. Most visitors seem come by train on day trips from Nice. Our hotel room in the Ibis Styles overlooked the train platform, so we could not help but notice all the comings and goings using that convenient mode of transport.
But we had a car, so we adapted. We had by then driven across the south of France from Milan to Barcelona via Provence and then returned via Andorra, Carcassonne, Ales and Grasse. The steep, winding narrow roads around Beaulieu-sur-Mer required total attention to navigate. Sometimes our GPS told us to turn into what we thought was a narrow back lane, but in fact it would be the primary road. With so much precipitous elevation being the only available real estate, there were many great viewpoints, even if there was usually no place to stop and take pictures.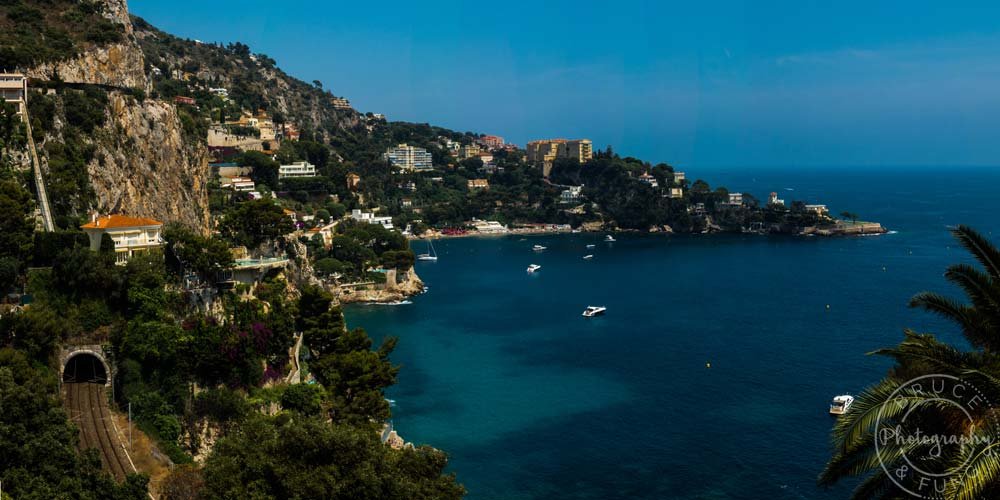 Above: Cap Mala, near Eze. Houses built in precarious terrain, even above the train tunnel.
A Fortuitous Series Of Events
Not only the landscape was steep, so were the prices for pretty much everything. If a meal for three would be €70-140, it better be good. The dining standards are high in France and they are rightfully proud of their cuisine. But it is no secret that the quality of food service goes down in the higher-density tourist areas. Visitors pay for the view more than the food. It was probably no coincidence that our meals that were outstanding were at two restaurants that had no view to speak of. We did have a good plate of food at a recommended (by our hotel) restaurant at the marina in Beaulieu-sur-Mer, where there is a row of competing indoor/outdoor establishments along the waterfront. But the serving size of our mains was what we would expect of a starter. We needed a second dinner that night, which was disappointing. But how our evening ended up eclipsed that setback.
Our unfulfilled stomachs led us to a capricious choice en route back to our hotel that resulted in hitting the culinary jackpot. We like to taste panna cotta variations on our travels, so we scanned menus along our route, settling on entering a near-empty restaurant called Aristee. The pass from the kitchen was near to the entrance and we immediately struck up a conversation with the Chef, who turned out to be a friendly Belgian named Olivier, who was happy to chat about his dishes.
We wanted more than just a dessert, so perused the menu and ordered a big pot of mussels. We have enjoyed many a pot of mussels, with standout memories involving mussels from Vancouver and Oslo at the top of our list. But these mussels were really something special. Olivier explained that yes, they were smaller, but they had a more intense flavour since that had to fight harder for survival. They grew above the low tide line and had more colour from their difficult existence as well. Mixed into the steamer with the onions and wine were green bits that were new to us. It was a type of local seaweed that brought added taste to the party. The mussels alone were so spectacular that we pledged to delay our departure the next day in order to return for lunch. Thus is the power of food.
And then came the dessert. It was possibly the best panna cotta we have ever tasted. There was a subtle taste involved – somewhat like vanilla – that we could not identify. Once again, Olivier was happy to oblige us with his recipe. We had never heard of tonka beans, which was the secret ingredient. He told us that that they came from Brazil and had to be used carefully since eating too much of them led to liver damage and even death. Yikes! Because of this, they were illegal in the U.S.A., but were easily sourced in Europe. Later in our trip, we had another round of panna cotta, this time in Chora, on the island of Naxos in Greece. On that occasion we recognized the taste and asked our waiter to check with the chef. Sure enough,… tonka beans!
Above left: Delectable panna cotta. Above right: Aristee Restaurant.
HAPPINESS ON A PLATE
The other fabulous meal we partook of was on our first night, at an establishment that was on a side street and had an outdoor seating area on a platform that took over part of the sidewalk as well as part of the street. Having almost no car or foot traffic made this viable, so we ate outside. This restaurant was called Le Café de Saveurs ("The Café of Flavours"), which echoed another great restaurant we ate at a few days earlier called La Cave des Saveurs ("The Cellar of Flavours") at the Société cheese caves in Rouquefort-sur-Soulzon.
Simple food cooked well. Every plate we received was exceptional. Bruce rated his rack of lamb as one of the best two he has ever enjoyed: the other being Karoo lamb served in McGregor, Western Cape, South Africa. Sure it costed triple the price in France compared to South Africa, but it was divine. Perfectly cooked, crusted with seasoning and not too fatty, with plenty of crisp involved. It is notable how just the memory of such a standout meal can get the saliva glands into production well over a year later.
Sadly, both Aristee as well as Le Café de Saveurs have changed ownership since we visited Beaulieu-sur-Mer, so we cannot say if they still have such exceptional food. But at least we have the memories.