THE GALIMARD PERFUME CREATION WORKSHOP
The Parfumerie Galimard is located only a short drive inland north from Cannes. After leaving the main highway, we meandered into the hills of southern Provence and found ourselves in the fabled French town of Grasse. Also known as The Perfume Capital of the World, this area grows the rose, jasmine, lavender, myrtle, wild mimosa and other flowers that were the genesis of the French perfume industry in the 17th century. A standout species in the flower beds of the area is the fragrant May rose, the pale pink flower that blooms in,… you guessed it, … May. Along with jasmine, this flower is at the heart of more than a few famous fragrances, including the illustrious Chanel No. 5.
This medieval town draws visitors wishing to escape from the crowds along the coast and from the busy Provençal hill towns. There are things to see and do in Grasse, but the prime drawing card is perfume. There is an International Perfume Museum and there are three noteworthy perfumeries that offer perfume creation workshops. Choosing between Galimard, Fragonard and Molinard is a matter of personal preference, but we chose Galimard, which is the oldest perfumery in Grasse and certainly one of the oldest perfumeries in the world. It dates to 1747 when Jean de Galimard supplied the French court with olive oils, pomades and perfumes.
Creating your own perfume is a unique and memorable activity. Fung was booked in early, as we were in the region in early July, which is the start of the busy season along the French Riviera. But rather than just sit around, Bruce and Max decided to have a go at something more masculine and we all had an interesting and fun two hours.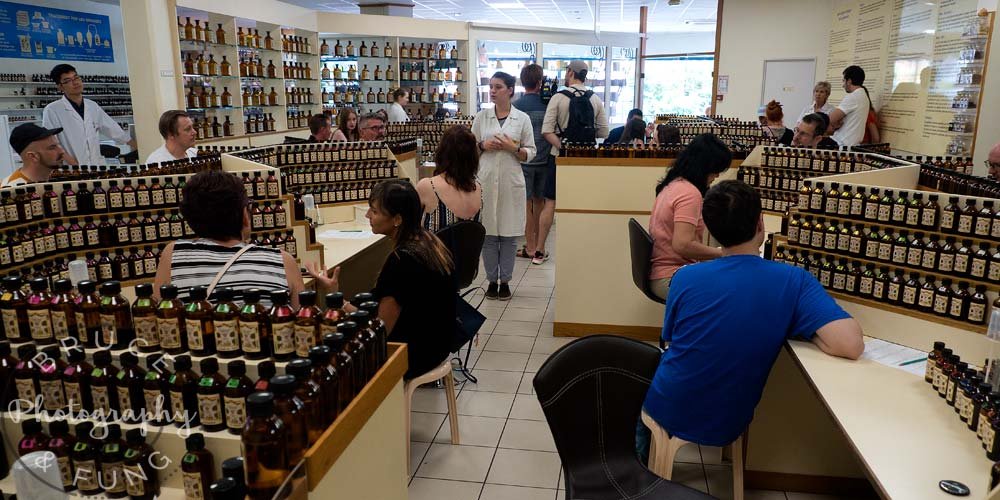 After checking in a their showroom front desk, we were directed into a back room, segregated by language and seated at our own desk, known as a perfume organ, which had 127 small bottles of scents – known as notes – along with the measuring beakers we would use to build and mix our personal fragrance. The bottles were labelled, colour-coded into families and many also had symbols on them to denote more feminine or masculine scents.
Galimard offer the workshop in eight different languages and in our session alone, there were at least four languages in play. For every 3 or 4 people there is one facilitator (also called a "Nose") speaking the language you signed up for. This person guides you through every step and recommends the proper amount of each scent you pick.
Fung's initial "Nose" was obviously more senior and experienced, but was also more stern and bossy than the one Max and Bruce had. Perhaps frustrated by our enthusiasm, she passed us to a friendly "new" girl, who was patient with our incessant questions. We were there to learn, after all.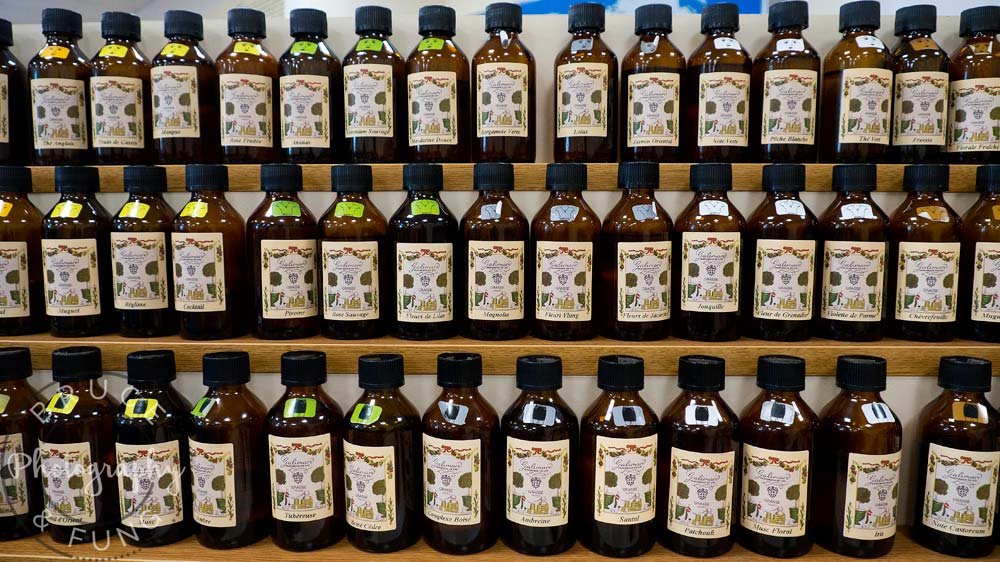 Our "Nose" explained the functions of the top note, the heart note (the dominant character) and the base note, the three stages of a perfume's scent across time. She described the basic principles of creating a harmonious and balanced formula. Then, within the prescribed framework and following the recommended ratios, we exercised our olfactory senses. We proceeded to choose whatever scents we liked, which was invariably too many. Then we eventually narrowed them down to fit the formula for each note.
Once we chose our scents, we poured them directly into a glass beaker to the right measurement and recorded each scent on the provided worksheet. After each note, the "Nose" came back over and explained the next note and told us the types of scents we could choose from and how many. Half of our creation was taken up by the base notes, in which we each mixed four scents. The heart notes and top notes took up 25% each, with five or six scents mixed into each. All of the components were mixed in varying quantities, depending on the strength of each scent.
Some of the notes we picked had familiar names, such as Jasmine Sauvage (wild jasmine), Thé Verte (green tea), Pamplemousse (grapefruit), Yuzu, Rose Pétales (rose petals), Jasmin Musc (jasmine musk), Musc Blanc (white musk), Freesia, Santal Exotique (exotic sandalwood), Mangue (mango), Lilas (lilac), Vanille (vanilla), Réglisse (licorice) and Citron Amer (bitter lemon). Some notes were rather more esoteric, such as Bambou (bamboo), Air de Provence (air of Provence), Bois Deaux (soft wood) and océane (ocean).
Once we were done they poured the perfume into a bottle and added a custom label on it, so that by the end of the workshop we each had a 100ml bottle personalized with the names we chose for our new creations.  As a long term bonus, our unique formula will be kept in the Galimard database so that we can order more online at any time in the future, whether in the form of perfume, Eau de Parfum, body lotion or shower gel.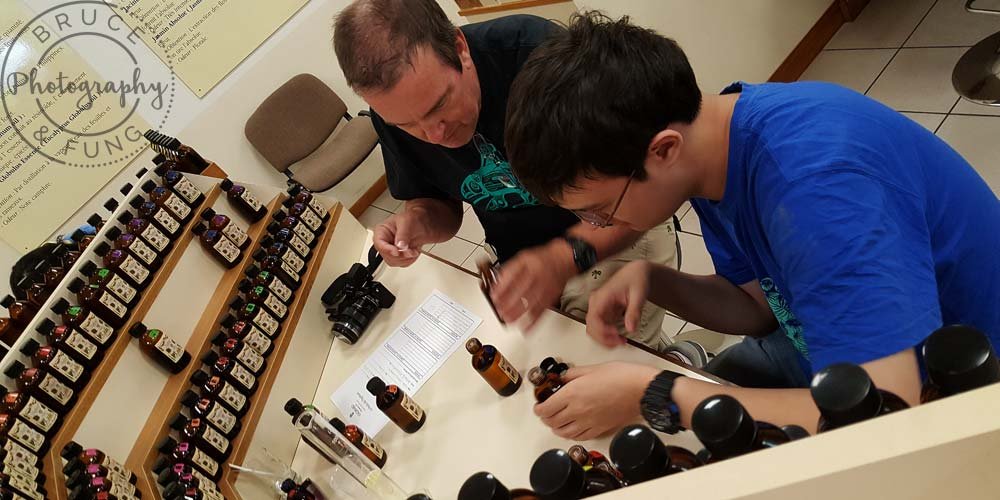 We can heartily recommend the Galimard Perfume Creation Workshop. It was interesting, fun and provided us with a unique fragrant souvenir from our time in the south of France.
GALIMARD PERFUME CREATION WORKSHOP INFORMATION
– The Studio des Fragrances is open daily, by appointment, for individuals and groups
– The workshops take place at 10am, 2pm and 4pm – Duration: 1 hour 30 minutes to 2 hours
– Workshops are held in French, English, German, Italian, Japanese, Chinese, Finnish, Swedish
– Workshop capacity: from 1 to 30 persons per session
– Workshop price (true Eau de Parfum 100 ml included): €55/person (child under the age of 15: €45)
€10 per accompanying person (maximum one accompanying person per creation)
For more information, please refer to their official website.