IMPRESSIONS OF AMSTERDAM
Our impressions of Amsterdam were brief, yet mostly positive. Even with only two days to play with and mostly uncooperative weather, we loved this vibrant city. Walking along the famous canals, dodging bicycles, watching where one steps because of the high numbers of pigeons (and their poo!) along with more scattered cigarette butts than we've seen anywhere. The fragrant smell of smoke wafting from the coffee houses. A melange of cultures living in a permissive society two meters below sea level. Steeped in history. So many contradictions. Lively and welcoming, yet a bit disreputable and seedy. Rundown yet cultivated.
It is an intoxicating city that we look forward to re-visiting to explore further. We could feel the weight of history. Old, though not ancient like Rome. Its architecture is predominantly Dutch Colonial in style, but not as homogeneous as Paris. The mix of cultures and their influence was obvious and appreciated, but set within a recognizably Dutch framework.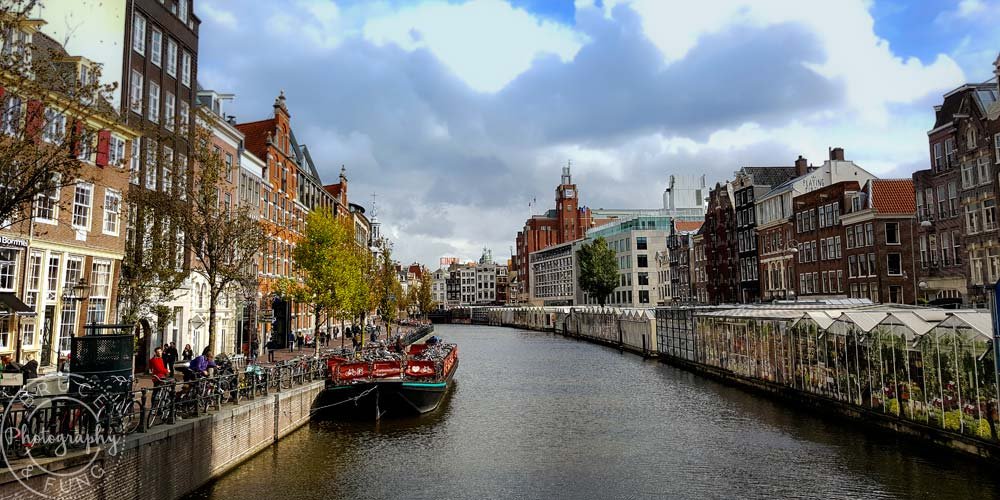 Travel Writing 101
We have used the word "Impressions" in the title for good reason. Allow us to digress and veer off-piste for a few paragraphs to muse about travel blogging in general.
We always find it humorous to read travel blog posts on places that the writers have only spent a day or three actually visiting, but they write about the destination with self-awarded expertise, eagerly imparting nuggets of wisdom to their followers in the blogosphere. Serious, full-time bloggers seem to live a frantic existence. They're always on the move, posting at a rapid pace, needing to research where they are heading while trying to cover where they are. And most importantly, they must get those highly-prized (often copied) Insta-photos to post with their musings. All of this is put up on various co-ordinated social media feeds that build off each other in order to maximize monetization. We do not aspire to live that life. It just seems too hectic to us.
In spite of exhaustive research beforehand, we never see ourselves as experts. We understand that we are merely scratching the surface wherever we visit. Some places we go to are "been there, done that", with a single visit enough to satisfy our curiosity. Other places are like peeling an onion, offering distinct experiences the further you care delve into what is on offer.
Some folks prefer to fill their days with planned excursions, charging here and there on a busy schedule. We often find our strongest memories taking a relaxed approach. We enjoy just going out meandering aimlessly interspersed with spending time sitting still, allowing the sights, smells and tastes to settle at a more languorous pace.
Above & below: It can seem difficult to point one's camera in any direction and not get bicycles, canals, or both in the frame while exploring Amsterdam. We're not complaining. It certainly is a very photogenic city.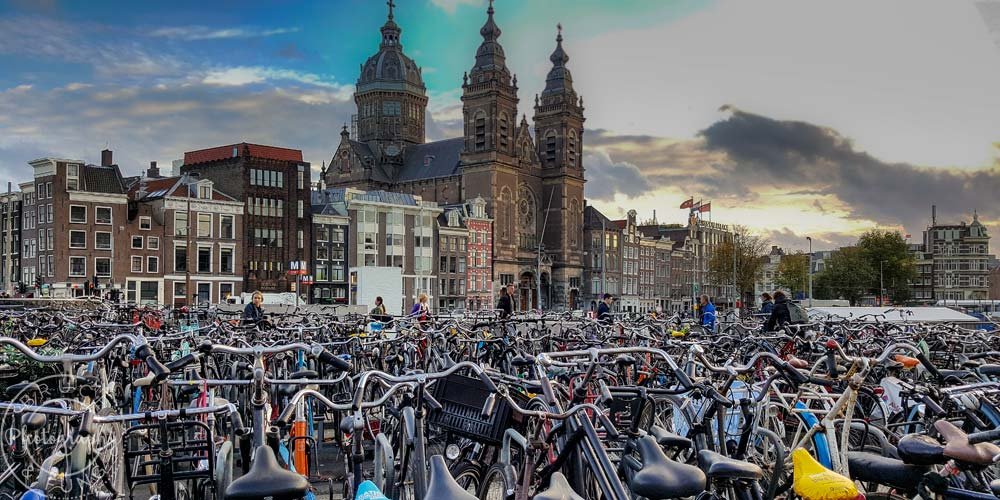 Cities are a fascinating concentration of culture, food and architecture. We are more inclined towards the open road and natural scenery. But we do enjoy forays into the urban jungle. Europe is a wonderful playground of charming cities offering different cultures, history, language and food within a few hours by car of each other. Our favourites have been Rome, Athens, Salzburg, Oslo, Barcelona, Paris and Amsterdam. But our time spent in each of these cities has been four days or less. This means that we are gaining a shallow appreciation, with only fleeting impressions. Because of this, any of our city posts will be just that: impressions.
Which brings us to Amsterdam, the capital and most populous city of the Netherlands. Images of windmills, dikes, canals, tulips and uncomfortable wooden footware come to mind. But this multi-cultural metropolis is so much more.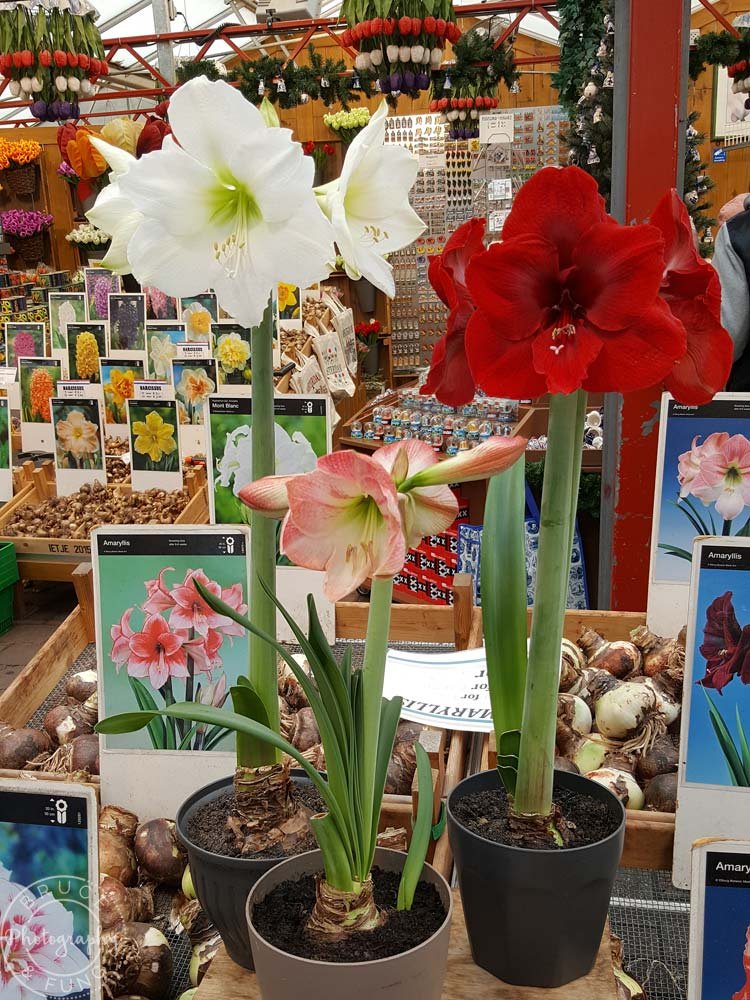 Above left: They definitely love french fries in Holland. Line-ups for take-out were a common sight. Quality fries with a selection of toppings results in good, simple comfort food. Above right: The flower market (Bloemenmarkt) is a fun tourist trap. They sell more mugs, fridge magnets and other tourist fare than flowers, but there's still a lot of flowers, bulbs and seeds, even in the off-season. We collect Amaryllis bulbs, but learned too late that virtually all of the the ones that are supposed to sprout (rare) blue flowers are nothing more than a scam. You have been warned.
Welcome to Amsterdam
We flew into Schiphol Airport after a weekend visit to Oslo hosted by family who live in Norway. Looking out of the windows of our Norwegian Airline plane, the terrain was perfectly and boringly flat as far as the eye could see. At the start of October, our good luck with weather over the past three weeks was blown away with cold winds bringing showers and dismal grey skies. Welcome to Amsterdam.
A hearty lunch alongside the airport entrance offered entertainment provided by watching the people outside the glass who needed their nicotine fix and were required by law to go outside to get it. Some were shivering in shorts and t-shirts, probably coming from or going to warmer destinations, some were bundled up appropriately, and some were flight crews in uniform. Bent with their backs to the buffeting wind gusts, unable to wield an umbrella against the rain and without the shelter of an effective overhang from the terminal, they were all united in their need for a miserable quick smoke. Of course this meant being exposed to some of the more uncomfortable elements of nature, reducing the smokers to grimacing at the challenges of life as they addressed their addiction.
Public transport in Amsterdam is easy to navigate and runs smoothly. After our Schiphol meal we took a train to the main station in Amsterdam (Amsterdam Centraal), followed by boarding a trolley for a few stops to a major square called Rembrandtplein, which centred on a statue of,.. you guessed it…, Rembrandt (who owned a house nearby) along with characters from his famous painting The Night Watch. Then it was a 50 metre walk unthreatened by traffic to the attached plaza known as Thorbeckeplein, which The Imperial Hotel (clean, comfortable & friendly) overlooked. Lined by bars and restaurants, it was probably a noisy area on most nights, with tables spilling out from the establishments. But with the blustery wet weather, nobody was sitting outside and the gusting winds whipping through the tree branches outside our windows was the only noise heard through the night. 
Not wanting to venture far for our dinner, we only needed to go across the square to partake of fine international pub grub at Coco's Outback. Holland isn't known for exceptional cuisine and we were warned that it is an expensive city for drinks. But these things are relative. Coco's proud motto is "Lousy Food and Warm Beer". Perhaps setting a low bar helped reduce expectations, but we enjoyed our food, the beer was Aussie-standard cold and it was all served efficiently with a smile. Coming from Oslo, the prices were not expensive to us. Having a Monday discount was an additional bonus. In fact, dinner for three along with our drinks resulted in a bill asking for less than just a dinner for one would cost in Norway. Relative. Our other notable meal was at an Argentinian steak house. We did not actually try any traditional Dutch cuisine and would struggle to even name a dish of proper Dutch food.
About Amsterdam hotels: if you dislike steep, narrow stairways, this is not the city for you. All these narrow, tall old buildings translate directly to a lot of stair-climbing. Wrestling with suitcases up and down steep inclines are to be expected, so packing light is a strong recommendation.
Right: This statue of Rembrandt was made in 1852 and holds the title of Amsterdam's oldest surviving statue in a public space. The figures in front are from his famous painting The Night Watch and were added on the artist's 400th birthday in 2006. Below: Thorbeckeplein (Thorbecke Square), where our hotel was located.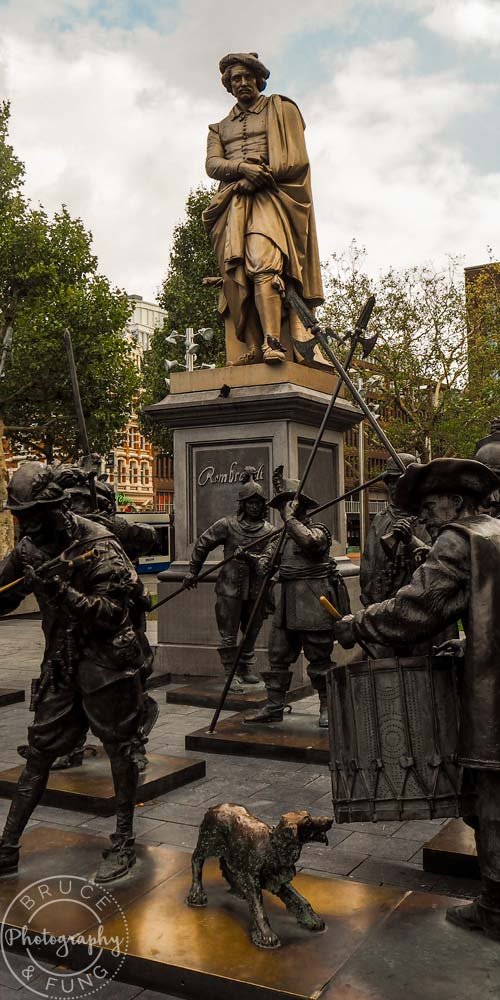 Bad Weather = Less Touring
Besides the inclement weather, we had work responsibilities that kept us occupied during part of our time in Amsterdam. We must be some of the very few visitors to Amsterdam who failed to go on a canal tour. We wanted to, very much in fact. But every time we decided to go for it, the sullen skies would darken, threatening rain. We did get around for some nice walking exploration and we had one night on which the conditions were actually pleasant.
Did We Mention the Bicycles?
It is a lovely city to walk around, though one must be constantly mindful of the countless bicycles that share the roadspace and can appear speeding out of seemingly nowhere at any given second. Fun fact: There are actually more bicycles in Amsterdam than people. The number of bicycles chained to any available suitable surface reminded us the mind-boggling number of motorcycles parked on every street in Taipei. The difference is that Amsterdam is not choked with fumes as Taipei is. Score one for the environment.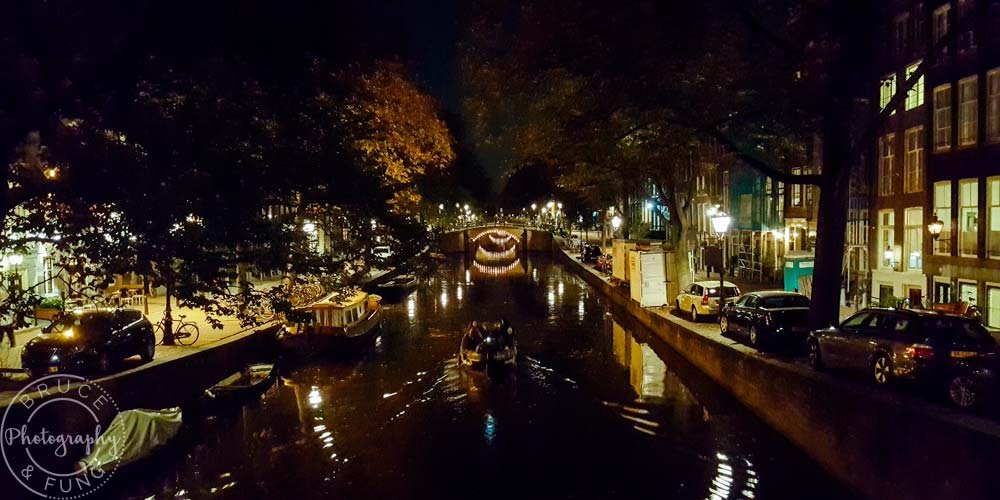 Above: One must admire the parking skills of those who live along the myriad canals. Still, we reckon that cars must end up in the water on a regular basis.
… Next Time…
We look forward to a return visit to this alluring city. Our impressions of Amsterdam were enough to entice us towards further exploration when we have more time and hopefully, better weather.