RELAXING NAXOS
An island full of history and culture, Naxos is not only the largest island with the highest peak in the Cyclades, it boasts some of the finest beaches in the entire country along with verdant, productive valleys that have been cultivated since ancient times. So why isn't it more popular?
An expansive view of Naxos looking towards the neighboring island of Paros.
When talking about idyllic Greek islands, the larger islands of Crete, Rhodes and Corfu have their loyal adherents, situated out towards the edges of Greek territory. In the centre lie the Cyclades, the island group that attract the most attention as well as the most tourists. The Instagram-able beauty queen islands of Santorini and Mykonos tend to be mentioned first, being the most-visited. Paros, which is a popular island with long-term expats along with tourists is an easy-to-reach open year-round island. But nestled in between those three is in Naxos. You may or may not have heard of it. It has been called Greece's most popular undiscovered island for good reason.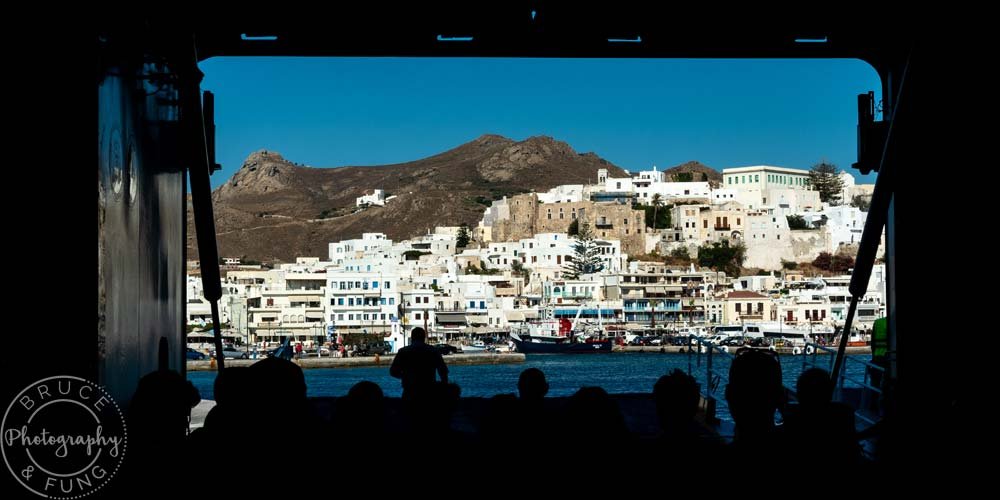 The view of Naxos Town from the deck of the arriving Blue Star Ferry. Notice the Kastro (a Venetian castle) above the harbour.
WELCOME TO NAXOS!
We arrived by ferry from Santorini and immediately noticed a few differences on docking at the harbour of Chora (Naxos Town). No crowds at the ferry pier and lower prices for everything was obvious as well as welcome. Without large crowds, one has more time to exhale, slow down and relax.
Enjoying a Naxos sunset at the Flisvos Beach Club on Saint George Beach
THE BREADBASKET OF THE CYCLADES
Being a productive island, the food we ate may not have come with the presentation on show on Santorini (every plate of food we enjoyed on Santorini was exquisite), but it was hearty, generous and delicious for a fraction of the cost. As the breadbasket of the Cyclades, the farms, olive groves, vineyards and dairies of Naxos produce wine, cheese, olives, potatoes, fruit and more. So much fresh locally-sourced produce leads to much pride in their cooking. A fertile interior and generous water resources allow Naxos to be not only the most self-sufficient island in the Cyclades, but they also export produce to the rest of Greece. Since fresh produce is the key to any fine dining, Naxos is an exceptional island to savour delicious cuisine.
After travelling in France and Spain, there was one thing that Greece offered that we REALLY liked: the ability to find open restaurants in the mid-to-late afternoon. Open restaurants are something we take for granted in most countries. But try having a late lunch or an early dinner in France or Spain. Aside from crepes or a sandwich or possibly a slice of pizza, we constantly and frustratingly found ourselves going hungry. But in Greece, restaurants would welcome us anytime, being open all day. It really made a big difference to us and we enjoyed ourselves in Greece all the more owing to that one simple thing.

A fertile valley on the northwestern coast of Naxos, with a distant marble quarry on the far right.
BEAUTIFUL BEACHES ABOUND
Most visitors head straight to the beautiful strands of golden sand strung along the south-western coast of the island, facing out over clear turquoise water. Starting only a few minutes' walk from Naxos Town, the first beach is Agios Georgios Beach (Saint George Beach), which is the most family-friendly, with shallow, calm conditions and plenty of tavernas to choose from.
Continuing south, the quality of beach generally improves: Agios Prokopios, Agia Anna Beach and then Plaka Beach, which is considered as the best beach on Naxos and along with the first two, some of the very best in all of Greece. All of these beaches are excellent, with both quiet sections and areas with tavernas, beach clubs and hotels.
Further down the coast is Kastraki Beach, which is over six kilometers long, followed by – you guessed it – even more beaches, some with patches of juniper trees and cedar forests along with huge sand dunes. So there is a lot to choose from. While most beaches are sheltered, some are north-facing beaches, which is great for kitesurfing and windsurfing owing to the strong summer winds from the north
The popular and family-friendly beach of Agios Georgios Beach (Saint George Beach), with Naxos Town behind (above); At the southern end of the bay is a sheltered lagoon perfect for learning winsurfing since it's calm, but catches the seasonal summer winds (below); a big happy pig (bottom left) and the Flisvos Beach Club on Saint George Beach (bottom right).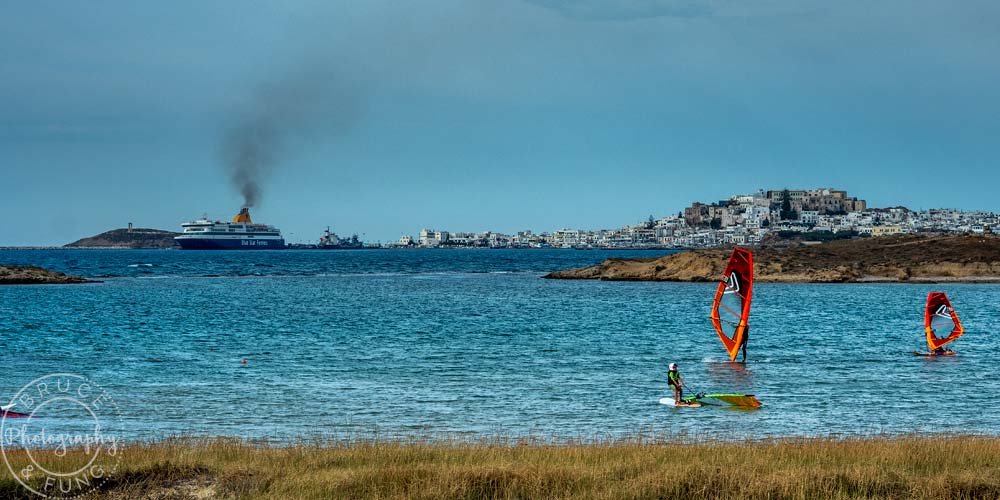 EXPLORING NAXOS ISLAND
It would be understandable to spend ones' time lounging on any of the attractive beaches, but the interior of Naxos has much to discover. There are mountains of marble, dry rolling hills, green valleys, impressive views across the blue Aegean Sea to neighboring islands, orchards including olive trees more than 1,000 years old, traditional villages and historical sites. We immediately got the impression that this was an island that had a lot to offer and one that we could have spent much longer exploring.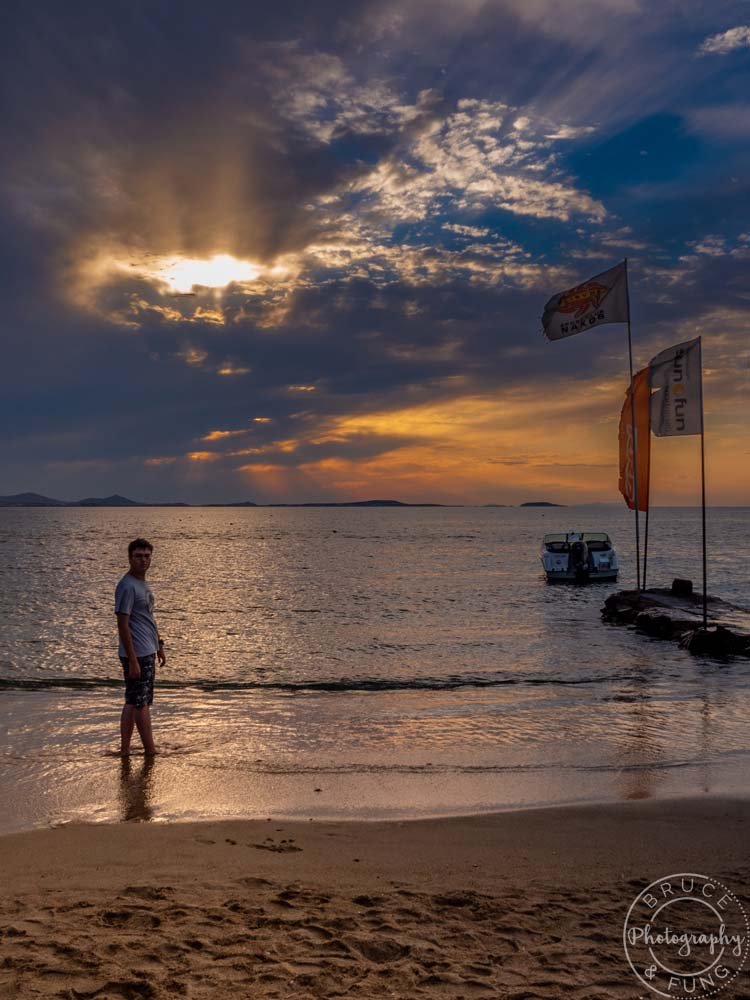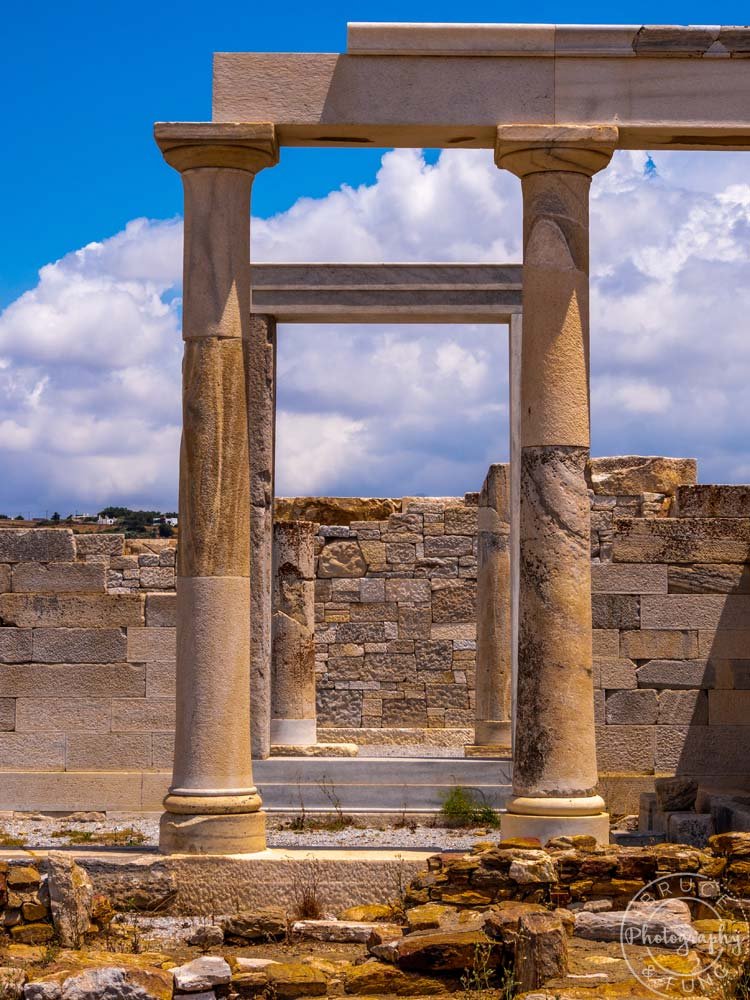 Another beach sunset on Saint George Beach (left); The Temple of Demeter at Sangri (right)
The history of Naxos – which has been inhabited since the fourth Millenium B.C. – is obvious when one gets away from the magnetic beaches. There are Venetian towers, Byzantine monasteries, and Mycenaean (the bronze age: spanning 1600–1100 BC) ruins. A lot of old stuff, in other words. The most popular inland archaeological site to visit is the Temple of Demeter at Sangri, built from Naxian marble around 530 BC. It was erected as a sanctuary to worship deities associated with the fertility of the earth and overlooks a valley that is still productive to this day. Nearby is the oldest olive tree in existence, dated at 5-6,000 years old!
The Temple of Demeter at Sangri (top); the walk down from the temple into the Valley of Sangri (bottom).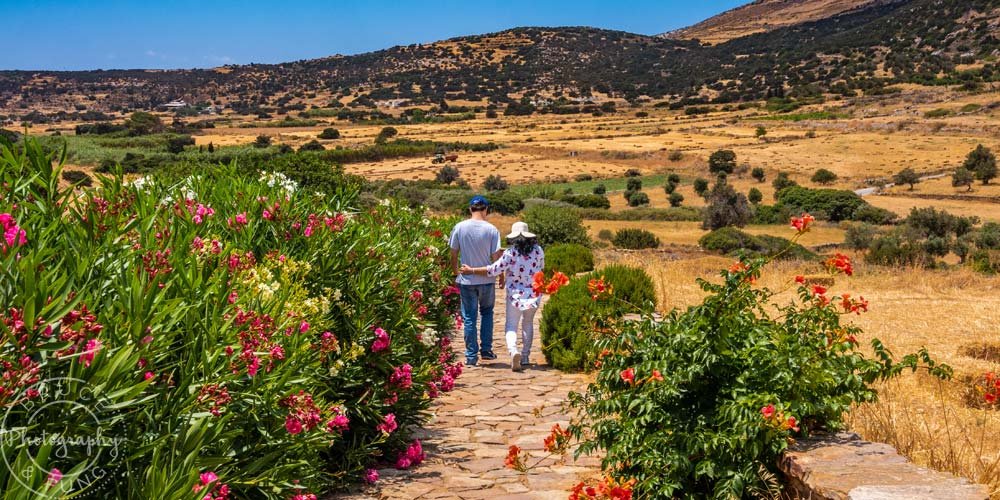 We stopped by the village of Damalas to check out the pottery studio of Mr. Limpertas Manolis (pictures below). We were very glad we did. We not only picked up a few pieces of his work to take home, he kindly showed us how he works. You can see a video we shot of Limpertas in action here.
As we continued further uphill, we passed the picturesque traditional villages of Filoti and Apiranthos. Then, climbing higher, we reached our lunch stop. This was the famous Rotonda Restaurant, which has the undisputed best view of any restaurant on the island. The food was delicious as well, making it a highly-recommended stop for anyone venturing inland.
The mountain village of Filoti, nestled below Mt. Zeus, the highest peak in the Cyclades. Notice the ancient olive trees in the foreground (above); the panoramic view from the fabulous Rotonda Restaurant (below).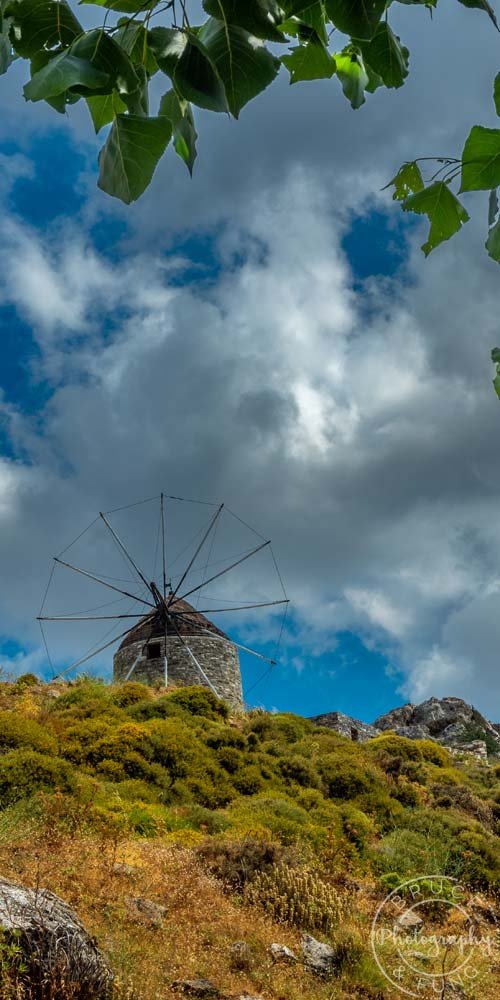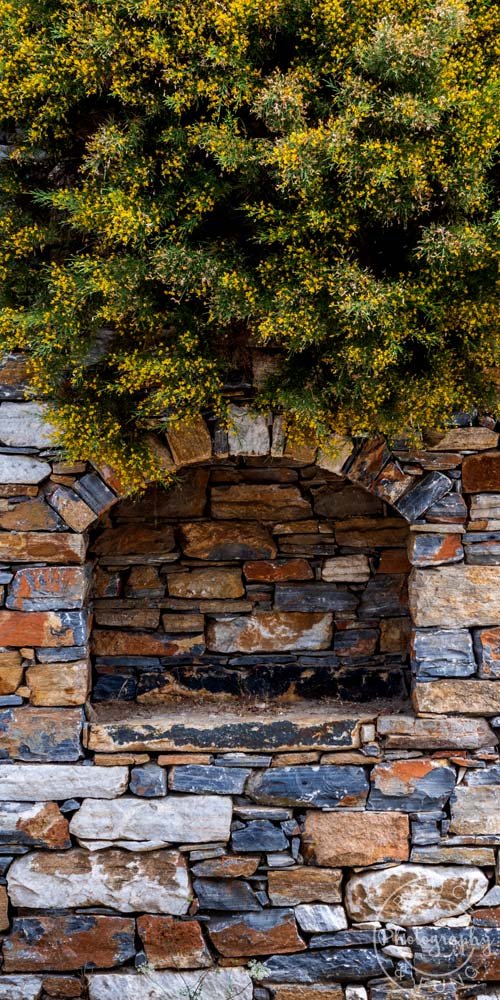 (left to right) A hilltop Naxian windmill; there is so much marble on Naxos that it is even used for roadside walls; a marble peak.
The western and northern parts of the Naxos coast are suitably bleak, looking more like the other wind-swept cycladic island coasts since they face the strong winds from the north. Near the top of the island is Apollonas, a fishing village on a quiet sandy cove that has some hotels and restaurants. It looks like a nice spot for a beachside seafood meal with a different feel than the west coast. Above the village is a marble quarry. There are numerous marble quarries on Naxos, but this one has a giant, unfinished statue of Apollo that has been laying there since 600 B.C., making it worth a stop.
The village of Apollonas (top); the winding roads at the top end of Naxos on a blustery, drizzling afternoon. Notice the marble veins on the hill in the right picture (below).
NAXOS TOWN
Naxos Town (also called Chora) itself is well worth exploration. It's compact, so everything is in walking distance. The most-photographed feature on Naxos greets arrivals since it is located beside the harbour, reached by a causeway. This is the Portara, which was a doorway to an ancient Temple of Apollo, built in 522 BC by the Tyrant Lygdamis, but was never completed. The rest of the ancient temple was eventually dismantled, with the blocks used for other buildings in the town, including the Kastro (castle) above the town during the Venetian Period.
The Kastro is the other notable feature that greets arrivals. It was built by a Venetian Emperor, Markos Sanoudos II in 1207 and was the seat of power in the Cyclades for 300 years. There is only one of the towers still remaining, but it is still an imposing presence. Below the Kastro is a warren of winding alleys full of shops and restaurants that is fun to meander around.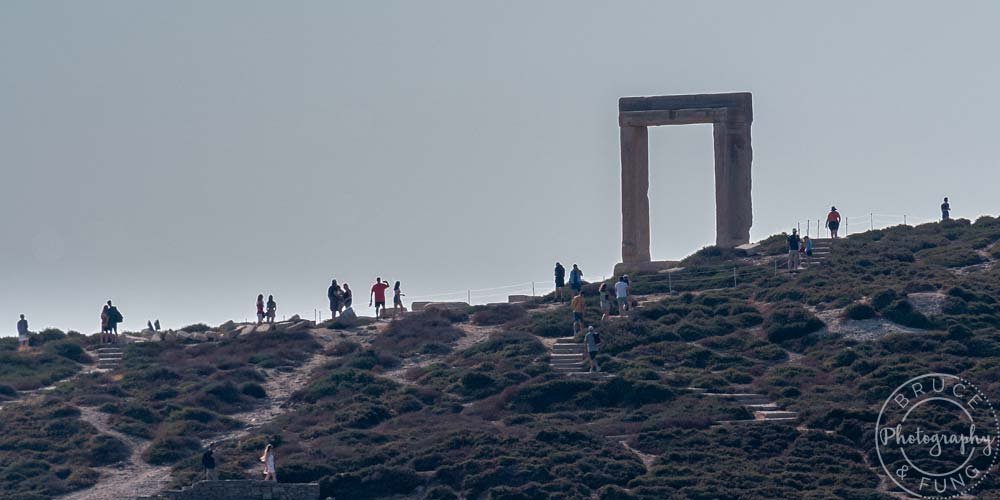 The Portara (above); old and new forms of harnessing wind power (below left) and the Kastro in Naxos Town (below right).
WHERE TO STAY?
We stayed just outside Naxos Town at the excellent Ikaros Studios & Apartments. It was in a good location, near to the best food shop on the island (Spar) and only a few minutes' walk to both the town as well as St. George Beach.
If one wishes to concentrate on beaches, we'd recommend staying further south, but being near the town gave us more options.
There is a popular and well-run bus service from the town to the western beaches (with a bus stop right in front of the Spar), so renting a car or motorcycle is not necessary unless one wants to explore the island, which we obviously did.
So how much did we like Naxos? The fact that we plan to return and spend more time there when we can return to Greece (and we most definitely will) is the highest praise we can give.
Naxos boasts numerous sweeping beaches to choose from, an attractive compact town to explore, delicious food using locally-sourced fresh ingredients, with tradition and history on display. It has room to move freely, with no signs of mass tourism, designer boutiques or high-end jet-set frivolity to be found. So in short, it is a great place to slow down and relax.
GETTING THERE
There is an airport on Naxos, so flying in from Athens is an option, but most visitors arrive by ferry. Coming from the Athens port of Pireus, Blue Star ferries are frequent. There are usually two or more sailings daily, with more during summer. The reason for this is because Naxos is on the same route as Santorini. That means that the boat may be full during High Season, so book ahead if travelling in July or August. Pireus to Naxos takes around six hours. There are high speed catamarans on this route as well, which are a bit faster, taking around four hours and costing 50% more if you require more speed. We were happy with our ferries, choosing Blue Star and finding the boat comfortable and spacious with a few seating options and decent food service outlets. Check out the easy-to-navigate Blue Star Ferry website for choosing and obtaining your tickets.