WHEN A PEPPERONI PIZZA IS NOT A PEPPERONI PIZZA
HUNGRY ON A SUNDAY IN MECKENBEUREN
We were spending a few days in southern Germany, based out of a sleepy, non-tourist town called Meckenbeuren, located just north of Friedrichshafen, which is on Lake Konstanz (Bodensee in German). We had a nice apartment and cooked for ourselves, shopping daily for whatever we needed.
Germany is an efficient and "easy" country to get by in, even with the language barrier. But the fact that virtually everything closes down on Sunday was a surprise to us. So on our first Sunday we were caught out with no food to cook and no shops open.
Bruce drove around, looking for an open restaurant to find some lunch for us and found a Turkish-run Italian restaurant that was quite busy. The food coming out over the pass looked good and he kept it simple, ordering a pepperoni pizza.
When the food was ready, he paid and drove back to our apartment. Opening the pizza box, we had quite the surprise. Our pizza had no evident meat, just sauce and cheese with a verdant green covering of small whole green chilis!
Thinking that this grievous error was simply a mixup at the pizzeria, he immediately returned and politely pointed out that we were mistakenly given a non-pepperoni pizza. The friendly guys behind the counter insisted that this was indeed a pepperoni pizza, whereas Bruce merely asked them to point out where was the pepperoni hiding. Speaking only a few words of each other's language, the back-and-forth must have been quite a source of mirth to the other patrons, with both sides adamant in their stance. Eventually the two sides agreed to disagree. It was a lovely-looking pizza, but it was not what we ordered.
Probably thinking that this difficult foreigner was deranged and not wanting to drag out this bizarre exchange of cultural views, they cooked a new pizza, this time a salami pizza. This was a safe choice as they did not seem to grasp the fact that a sausage existed which was called pepperoni and it was a standard topping for pizza in North America.
Bruce went to pay for the new pizza and they refused his money, which was a pleasant surprise. This time, the pizza was acceptable and it was tasty as well.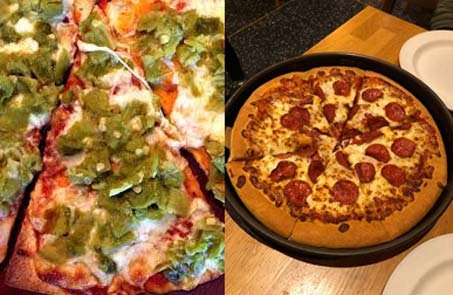 Only later, when we recounted the incident to German friends did we get an explanation. Once their laughter subsided, we learned that in Germany (and even in Italy), there is no western-styled pepperoni. They simply do not know what it is. Pizzas in Europe have salami as the sausage of choice as a topping. Pepperoni to them is spicy chili peppers. Weird. So beware if you order a pepperoni pizza in Germany and do not like spicy food, since the word pepperoni has two distinctly different meanings on each side of the Atlantic Ocean.